By Jennifer Neutel
'We are having the kinds of conversations that we dreamed of having'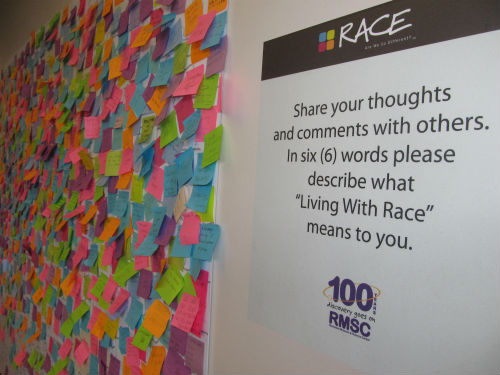 When Kate Bennett was on the golf course last week, a woman asked what she can do to help Rochester's effort to create awareness and positive dialogue around racial inequity.
"Not a day goes by when I'm not talking about it," Bennett says, noting that race is a topic a lot of people didn't previously discuss.
Bennett is president of the Rochester Museum & Science Center and co-chair of the Facing Race, Embracing Equity coalition. The coalition is working with Unite Rochester, an effort launched by the Democrat and Chronicle last year to raise awareness of race and racism and inspire a more inclusive and creative approach to solving community problems. The Rochester, N.Y.-based newspaper is also a member of the coalition.
Unite Rochester has Rochester talking, Bennett says, noting that people are both agreeing and disagreeing. She sees Facing Race, Embracing Equity and Unite Rochester "joined at the hip."
"Together we are having the kinds of conversations that we dreamed of having," Bennett says.
The process began when the Rochester Museum & Science Center approached the Democrat and Chronicle with plans to host an early 2013 touring exhibition called Race: Are We So Different? The Rochester Area Community Foundation provided a grant for the show, with a request that it be more than an exhibit — that it help create meaningful change in the community.
This led to the creation of the Facing Race, Embracing Equity coalition. The exhibit also lined up well with the newspaper's intention to launch a race series.
The Democrat and Chronicle was "exceedingly supportive" of the exhibit and of getting people into action, Bennett says. The newspaper ran a countdown urging readers to attend the show — the first time the paper prompted people to attend a museum exhibition. It also worked to have people blog on the topic.
Race: Are We So Different? brought in more than 45,000 visitors from more than 840 cities, an "amazing" number especially given the subject matter, says Bennett. The museum encouraged groups to come at a special rate, and 125 facilitators were trained to convene conversations with attendees on how race matters to them, and their experiences with race.
The Unite Rochester coverage — which includes community gatherings, blogs, editorials and investigative reports — is now educating the community with specific information that was previously unknown, Bennett says. There are many aspects people have been unaware of, such as how race affects opportunities in health, jobs, housing, criminal justice and education.
"It's very impressive that the Democrat and Chronicle has taken this on. It is helping us to uncover it and unpeel the layers — because there are so many layers to this conversation," Bennett says.
The Facing Race, Embracing Equity coalition meets twice a month, and will soon be having its fourth all-day summit, which sees approximately 250 people attend. The group includes a variety of organizations, and discusses what is known about race and what can be improved.
Members know they are standing on the shoulders of other good work that has been done, and try to make sure that existing ideas are incorporated, Bennett says.
When asked what advice she would give other newspapers that want to get involved in similar kinds of community conversations, Bennett points to Rochester's exhibit experience.
"Museums are a wonderful community gathering place to have difficult conversations," she says. "It's a helpful place to do it in. It exists in more than the media there, it has a setting."
Read Related Stories:
Rochester news organization builds inclusive conversation on race
Multi-platform news effort an 'extraordinary commitment to the community'
Newspaper's community-wide race conversations opening up dialogue
Unite Rochester seeks to effect positive change
— Unite Rochester is one of three pilot sites participating in the ASNE/Journalism That Matters partnership exploring how and why news organizations are engaging with their communities. This story is written by Axiom News. 


This work is licensed under a Creative Commons Attribution-NonCommercial-NoDerivs 3.0 Unported License.