By Jennifer Neutel
News organization engaging residents, raising awareness of racial inequities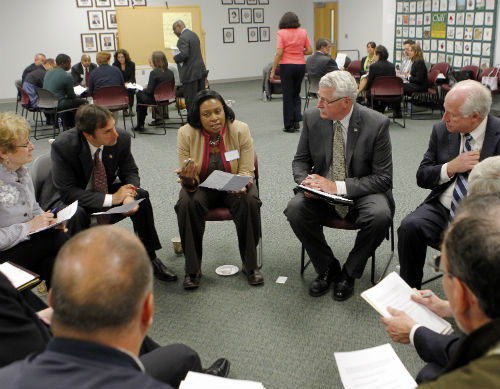 A "Listening Tour" on racial inequity hosted by the Democrat and Chronicle's editorial board has engaged more than 150 community members and political leaders, and is beginning to lead to direct changes in the community.
In one instance, a town supervisor said he didn't have people of color in his police department, and actively recruited and has since hired his first African-American member.
In another, the Monroe County sheriff and the Rochester city schools superintendent are using a new law enforcement academy to address diversity deficiencies in the sheriff's department.
Both encounters occurred at Rochester suburban meetings hosted by the Democrat and Chronicle as part of Unite Rochester, an effort launched by the organization in 2013 to raise awareness about racial issues and engage residents in community-wide productive conversations about race.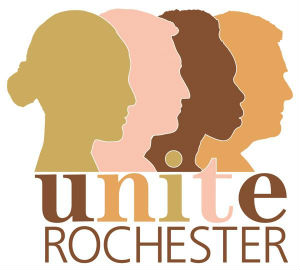 "Small victories are happening that we hope then will lead to more systemic change down the road," editor and vice president of news Karen Magnuson says.
"We are looking at systemic changes, institutional changes, as well as to shift the culture of our community to be more inclusive, and to try to encourage more inclusive problem solving," Magnuson says.
The Democrat and Chronicle has been working for years on a campaign that focuses on the importance of diversity.
"We have worked on reflecting the diversity of the community in our staffing and in our coverage, and have connected with the community in various ways to ensure that our coverage is as authentic as possible," says Magnuson, who is also co-chair of the American Society of News Editors (ASNE) diversity committee.
When the Rochester, N.Y.-based news organization learned a national exhibit called "Race: Are We So Different?" would be at the Rochester Museum and Science Center in January to April 2013, it connected and partnered with a dozen other organizations, including the Rochester Area Community Foundation, the YWCA of Rochester and a group called Facing Race = Embracing Equity.
"As the largest news organization, with the greatest reach in Rochester, we felt it was our responsibility to connect all those dots and raise awareness and engage the public through our platforms so we could get as many people as possible involved," Magnuson says.
In its second year, the Unite Rochester project aims to leverage the awareness and dialogue to effect positive change.
The main story Unite Rochester has focused on is economic disparities between white people in the suburbs and people of color in the city.
The investigative stories have been "revelatory," Magnuson says, with data showing the extent of the racial inequity in the community, particularly relating to poverty.
Magnuson notes it will take years to change the culture of the community.
"Success will be a community that is evolving in the right direction, with victories that you can point to and say we are making progress — which then leads to more momentum for bigger and better things," she says.
Read Related Stories:
Unite Rochester 2014: Rochester's caring must translate into action
ASNE, Journalism That Matters partner in community engagement exploration
Why are news organizations exploring community engagement?
— Unite Rochester is one of three pilot sites participating in the ASNE/Journalism That Matters partnership exploring how and why news organizations are engaging with their communities. This story is written by Axiom News. 


This work is licensed under a Creative Commons Attribution-NonCommercial-NoDerivs 3.0 Unported License.