By Jennifer Neutel
Correspondent experience permits Debora Gordon to pursue interests
The opportunity to be an Oakland Voices correspondent allowed Debora Gordon to fulfill part of her childhood wish.
"If I had to do it over again I would have more vigorously pursued a career in writing," Gordon says. "(Oakland Voices) did make me feel more inspired."
A teacher in the city's public-school system, the 55-year-old says being in Oakland Voices — a nine-month program that aims to put the power of storytelling in the hands of East Oakland, Calif. residents — was unlike anything she'd done before.
"I enjoyed having a chance to work in a journalistic atmosphere," Gordon says. Stories produced are posted on an Oakland Voices website, and some appear in the Oakland Tribune.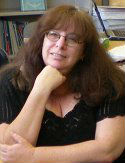 Being a correspondent allowed Gordon to go out and talk with people in the community that she might not have met otherwise, she says. For example, she used a press pass to talk with people at public events.
"As an Oakland Voices correspondent I felt I could approach people more easily than I might have without those credentials," she says.
During the program correspondents meet every couple weeks. Gordon says she enjoyed the gatherings and other participants.
Gordon wrote about 45 stories while a correspondent in 2012-13. Many reflected her personal interests, such as profiling teachers and a look into the criminal justice system through stories on a former student who is in prison.
Gordon says she is interested in what happens when people make bad choices and the occurrences that happen before that mistake. Exploring this in public through her time as a correspondent is something she says she will take forward as a teacher.
"A lot of students that I meet come from really difficult environments," she says, noting she wouldn't have thought her former student would get into trouble. Through the writing she had the chance to think more about the issue.
One story Gordon wrote that exemplifies the tie between personal experience and being an Oakland Voices correspondent was in reaction to the tragic Newtown, Conn. school shooting. As someone who takes an anti-gun viewpoint, Gordon shared her perspective on why the solution is not to have teachers be armed with guns in the classroom. The piece was printed in the Oakland Tribune.
"Having a teacher speak specifically about the idea of guns in classrooms to protect students was a wonderful perspective to have," says Martin G. Reynolds, senior editor for community engagement and training at the Bay Area News Group and co-founder of Oakland Voices.
Gordon says she'd like to see an advanced Oakland Voices program, or other ways for earlier cohorts to collaborate with new classes. She has ideas of follow-up stories she'd like to pursue.
"I'm really happy I had the chance to do (Oakland Voices). It is on my resumé … and I do talk about it with people a lot," she says. "It's something I feel is a real accomplishment in my life."
Oakland Voices is run by the Robert C. Maynard Institute for Journalism in partnership with the Oakland Tribune. It is currently running its third cohort. To learn more, visit http://oaklandvoices.us/.
Read Related Stories:
Reporter sees value in engaging citizen journalists
Oakland resident gains confidence, skills through journalism training
Oakland Voices empowers citizen journalism
Oakland Voices grad applies learning to her health sector job
— Oakland Voices is one of three pilot sites participating in the ASNE/Journalism That Matters partnership exploring how and why news organizations are engaging with their communities. This story is written by Axiom News. 


This work is licensed under a Creative Commons Attribution-NonCommercial-NoDerivs 3.0 Unported License.