By Jennifer Neutel
Community partner applauds newspaper for going beyond traditional reporting
When Jennifer Leonard talks about her first contribution for the Unite Rochester website launch her voice is filled with emotion recalling a reader's comment.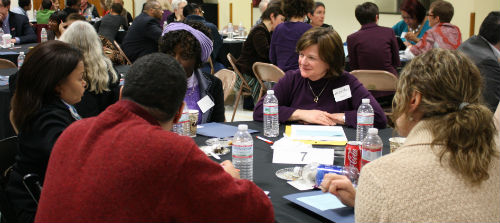 Leonard's blog started by sharing the story often referred to in history classes: that America is a land built by immigrants. The commenter expressed how some immigrants were brought to the country as slaves and to indicate they came willingly was inappropriate.
"I was pretty bruised by the public criticism but I also realized that the writer was correct and the narrative I had learned was not right," Leonard says. "I thought I was very sensitive — and I think what we've all learned is that we always have more to learn."
Leonard is president and CEO of the Rochester Area Community Foundation. In 2013 the foundation provided a $200,000 lead sponsorship towards bringing a national exhibit called "Race: Are We So Different?" to the Rochester Museum and Science Center.
The organization approached the Democrat and Chronicle about promoting the exhibit and possibly providing some news or editorial content around the racial and ethnic disparities in the city disclosed in ACT Rochester's Community Report Card.
"The paper was very responsive and decided that this is such an important area that they mounted their own multi-platform effort that has been an extraordinary commitment to the community," Leonard says.
The Democrat and Chronicle developed Unite Rochester to raise awareness about race and racism and inspire a more inclusive and creative approach to solving community problems. The Rochester, N.Y.-based newspaper is engaging the community in conversations around racial inequity and producing ongoing investigative reports.
"From my point of view what the Democrat and Chronicle has chosen to do with Unite Rochester is the equivalent of a playwright breaking the fourth wall and engaging with the audience. This is a newspaper choosing to not just cover the news but … become part of shaping the events of the day and making the community better," Leonard says.
There are a lot of journalistic scruples involved when it comes to mixing news with change-making, she notes.
"The Democrat and Chronicle has decided that they can live with that paradox because the issue is so important to the future of the community, and their mission and their economic potential is all bound up with the success of the community," she says.
The newspaper's intent has been focused on community betterment, even at the risk of annoying, irritating or actually outraging some of their readers and advertisers, says Leonard.
After its first six months, Unite Rochester published a set of recommendations based on its investigative reporting, community gatherings and a poll that the foundation helped back financially. The news organization recognizes it will be a "long haul." The editorial board is publishing its third progress report June 29.
"I commend them for hanging in there and living with the ambiguity of actually bringing together people and fostering action, not just coverage," Leonard says.
"My greatest hope is that we will move the needle on awareness and attitudes first, and then on behavior."
Related Stories:
Newspaper's community-wide race conversations opening up dialogue
Unite Rochester seeks to effect positive change
— Unite Rochester is one of three pilot sites participating in the ASNE/Journalism That Matters partnership exploring how and why news organizations are engaging with their communities. This story is written by Axiom News. 


This work is licensed under a Creative Commons Attribution-NonCommercial-NoDerivs 3.0 Unported License.