Posted by Jennifer Neutel
Sarah Binder and Kiran Sood invited candid reflections at an open discussion on diversity in entrepreneurship at a pre-conference workshop on May 14 at EntreFEST in Iowa City. The We Create Here community engagement managers co-led a conversation with a focus on how to create a safe space for tough issues, which are not often voiced.
"I'm a straight, white male. I'm supportive of diversity, but how can I show that without being intrusive or crossing a line?" Sarah recalls a participant asking.
Using the open space facilitation technique, Sarah and Kiran focused the workshop on creating a safe space for people to feel comfortable engaging in a deep and personal way.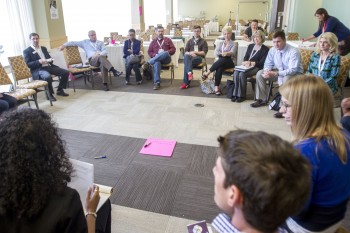 While they've shared work with each other in the past, this opportunity enabled Sarah and Kiran to examine the junction of their respective areas of focus for the first time, asking questions like: "What is possible at the intersection of diversity and entrepreneurship?"
The question of white privilege — which was among several emergent discussion topics in small group conversations — is one that Sarah is familiar with grappling with.
"I'm white and I grew up in Iowa in a predominantly white, middle class suburb," she says. "Sometimes it feels like, 'what do I know about diversity?' If I open my mouth, is it going to come across as an entitled point of view? It's hard to talk about."
The discussion surfaced insightful takeaways for challenging topics like this one. When people come forward in an authentic manner with good intentions it shines through, Sarah notes.
The workshop furthered the We Create Here team's exploration of the role journalists can play as conveners of community conversations and intentional community builders. It also underscored the importance of hosting meaningful conversations with community, in addition to just reporting on community issues.
"The purpose of bringing people together like this is always to focus on solutions," Kiran says.
"We believe it serves the same end goal — to inform people, or at least to spark a desire in them to learn more," Sarah adds.
Quinn Pettifer co-organized the workshop with her We Create Here colleagues. Kiran and Quinn co-developed the facilitation style with Peggy Holman, Journalism That Matters executive director.
At the end of the workshop, participants shared key takeaways and the personal step they would be taking on the step of their journey.
"It could be as big or as small as they wanted it to be. Some people said, 'I'm going to revisit a policy at this program at the university to make it more inclusive.' Others said, 'I'm going to go home and read more' or 'I'm going to approach this person I admire and ask them about their work,'" Sarah says.
"Everyone walked away with something," Kiran says. "That's a success."
The We Create Here team's participation was among other levels of involvement from The Gazette Company with the entrepreneurial conference.
Learn more about the workshop through Sarah and Kiran's blog posts:
Read Related Story:
ASNE, Journalism That Matters partner in community engagement exploration
Writer: Patricia Marcoccia
This story was originally posted on The Gazette Company's Our Voice. The Gazette Company's We Create Here is one of three pilot sites participating in the ASNE/Journalism That Matters partnership exploring how and why news organizations are engaging with their communities. This story is written by Axiom News. 


This work is licensed under a Creative Commons Attribution-NonCommercial-NoDerivs 3.0 Unported License.