By Jennifer Neutel
Axiom News takes unique approach to sharing narratives
New stories about an American Society of News Editors (ASNE) and Journalism That Matters (JTM) initiative exploring community engagement in news organizations are now appearing twice a week on the project's Engagement Hub website.
The stories are written by generative journalists at Axiom News, an independent organization that has deep experience in journalism as a vehicle for engagement. The Engagement Hub site is a digital space to share resources, connect members and build capacity around the project.
"We see the journalistic arts as key to the work of creating vibrant communities and organizations — the arenas in which people have the best chance to bring their gifts together to create their preferred futures," Peter Pula, Axiom News CEO and founder, says.
Generative journalists reach out to many people to explore aspirations, gifts and assets, and bring what is working to the surface. Axiom News sees benefits from writing a series of short, iterative pieces on a related subject as often as possible, an approach that differs from other news presentations.
"This enables the story to develop in public in small bites. It helps the story arc over time — we get feedback sooner, storylines stay very organic," Pula says.
Each story on its own may seem partial, but many stories over time can create a surprising picture, Pula says. As new elements arise, Axiom News publishes another story.
Peggy Holman, JTM executive director, says when she first heard Pula share Axiom's iterative story approach, it resonated. She offers a comparative story of a news organization working on an in-depth piece about the community that fell flat when it was published.
Telling the ASNE and JTM stories exploring the work of three individual pilot sites as they engage with their communities in an appreciative and serialized way will "take us a long way towards bringing clarity to what engagement means in practice," Holman says.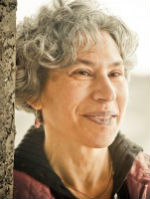 Through these stories and taking the mystery out of news organizations engaging with their communities the hope is to inspire more news organizations to get involved, Holman notes. People can also become part of a peer learning network, where they can have questions answered and as they gain traction become a mentor to others on this path.
Exploring content around the ASNE and JTM initiative and its three pilot sites is a great fit for Axiom, says Pula.
"Both organizations see the role journalists could play in community building. Having a chance to explore this alongside JTM and respected news organizations in three different communities is quite a chance.
"I hope we will make new friendships in the effort to integrate news and community building, discover sustainability models for that integration, and that we can be part of seeing communities thrive through the work," he says.
Readers are encouraged to share the Engagement Hub stories through social media and by reposting them. To learn more about the stories, or share a story idea, contact jennifer@axiomnews.ca.
Read Related Story:
ASNE, Journalism That Matters partner in community engagement exploration


This work is licensed under a Creative Commons Attribution-NonCommercial-NoDerivs 3.0 Unported License.