By Francesca Lupia
Stanford University
From the streets of Ferguson, Missouri to the US-Mexico border, the unrest over the last year  has done more than make headlines.
New emphasis on underrepresented populations has flipped the face and focus of American news. Journalistic practice must follow suit, said Alfredo Carbajal at Saturday's APME/ASNE panel discussion, "Flip it! Disruptive ways to engage untapped audiences."
"You've got to deconstruct your common assumptions," said Carbajal, managing editor of Al Dia (the Spanish-language section of the Dallas Morning News) and one of three discussion leaders at the "Flip It!" panel.
The session, led by moderators Mike Fancher (co-chair of the ASNE's Diversifying the News committee) and Peggy Holman (co-founder of media nonprofit Journalism that Matters), addressed the importance of engaging with, and telling the stories of, communities traditionally "untapped" by mainstream media.
By working closely with minority communities, journalists can examine complex stories with deepened understanding. Shifting from traditional top-down journalism to a more community-based approach can reveal unseen needs in that community.
Themes of empathy, diversity, and community shaped the discussion, as media leaders took the stage to share their experiences. Gilbert Bailon, editor of the St. Louis Post-Dispatch, recounted the challenges his team faced as they investigated violent crime in the St. Louis metropolitan area. "Initially, there was a lot of resistance," Bailon said. "This is a community that's very closed off and suspicious of outsiders."
Bailon instructed crime reporters to invest time into building relationships with community members. Eventually, reporters and residents developed mutual trust, allowing increased access to information and creating a rich diversity of perspective.
Panelist Suki Dardarian, senior managing editor of the Minneapolis Star-Tribune, also focused on diversity — both among sources and in the newsroom. While investigating the recruitment of young Somali refugees by Islamic terrorist groups, Dardarian instructed reporters to "take time" and "probe deeper" into the daily life of Minnesota's Somali communities. Spending time with community members brought much-needed context and honesty to the Star-Tribune's coverage, Dardarian said.
Perhaps less precedented was Dardarian's decision to "hand the mic over" and invite community members into the newsroom. As the Star-Tribune carried out its investigation, it published a series of personal essays from Somali refugees and Somali-Americans.
"Flipping" the traditional exchange between journalist and subject and allowing community members to publish their own perspectives has had wide-ranging effects. The essays were positively received by the Star-Tribune's readership, who lauded the community members' ability to connect their own experiences with readers' lives.
The event's attendees split into small groups to reflect on their own use of community engagement and devise strategies for future outreach and to shift to a more inclusive model.
Video is one technique that's working in targeting untapped communities: "It's a new storytelling," said Mark Tomasik, editor of the Treasure Coast, FL-based tcpalm.com. "Especially with a smaller staff, video makes it possible to reach out and say, 'we're the facilitator of a conversation,' instead of 'we're speaking for you.' "
The session's final minutes, fittingly, "flipped" the conversation to individual participants as they shared their thoughts and takeaways with the group. Afterward, Suki Dardarian offered closing words of caution and hope. "We know how to do this," she said. "But we need to keep reminding ourselves that we don't know our communities as well as we think. Taking time to understand,  build relationships, and listen to our community is how we improve."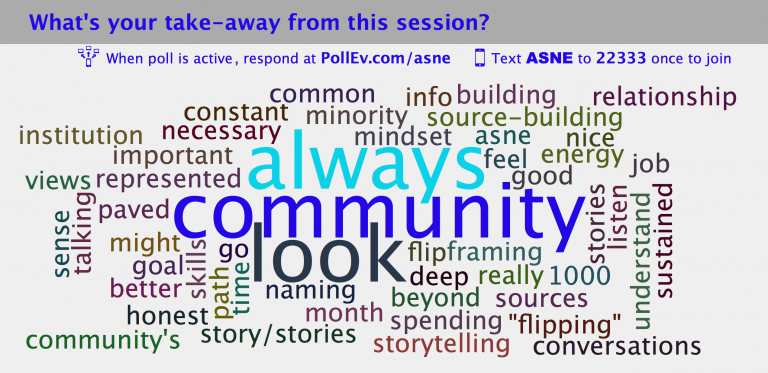 Republished from News from Editors3D.
This session was inspired in part by what ASNE editors learned at the Kettering Foundation in May. With just an hour on the phone to share the concepts, Carbajal, Bailon, and Dardarian had what they needed to try "flipping" stories they were working on.