By Jennifer Neutel
'We know there are a lot of stories that go untold'
As the new cohort of Oakland Voices, a nine-month program that aims to put the power of storytelling in the hands of East Oakland, Calif. residents, gets started correspondents are already looking at how they can continue to utilize the skills they will gain.
Correspondent Tiffany Lacsado says she hopes to be able to write more for publications and sees Oakland Voices as an introduction to journalism.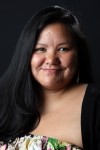 Lacsado was born in Guam and has been living in East Oakland since childhood. She wants to write stories about Pacific Islanders, who have been in the Oakland community for a long time, and also about working families.
She says she wants to bring awareness to issues that people don't pay attention to, "because awareness in itself has a healing power and I wanted to alleviate some suffering."
"I would like to be able to springboard somehow into journalism … writing stories that can highlight my community," Lacsado says.
Prior to even completing her first two articles in the Oakland Voices program, Lacsado says she's finding it interesting to see how just tweeting about Pacific Islander stories she's working on are getting picked up.
Sergio Martinez, who works in public health and lectures at San Francisco State University, was born and raised in Oakland and says he has a deep desire to help his community.
Martinez says he is enjoying the social networking and platform Oakland Voices provides, allowing him to reach more people and help translate perceptions of the city in a positive way. He has plans to continue sharing these perspectives through developing an Oakland blog that focuses on solving social problems proactively rather than from a punitive or reactionary lens.
"I would like folks to be more critically conscious about the social issues impacting people from Oakland," Martinez says, noting he sees a focus on Oaklanders who have experienced negative preventable health outcomes such as violence and disease.

Saa'un Bell works in social justice at a statewide grassroots organization. She's desired to gain skills that include journalism, social commentary and storytelling in a compelling way and is looking to continue publishing after Oakland Voices is over.
"I hope to amplify my voice and my style of writing in which I tell stories," says Bell.
"(I also want to) continue to tell stories that are happening in Oakland about people in different communities, as long as I am here in the community. My hope is that the rest of my cohort does the same as well because we know there are a lot of stories that go untold," she adds.
Oakland Voices is run in partnership with The Oakland Tribune, Bay Area News Group and Robert C. Maynard Institute for Journalism Education with a grant from The California Endowment. Visit oaklandvoices.us to learn more.
— Oakland Voices is one of three pilot sites participating in the ASNE/Journalism That Matters partnership exploring how and why news organizations are engaging with their communities. This story is written by Axiom News.



This work is licensed under a Creative Commons Attribution-NonCommercial-NoDerivs 3.0 Unported License.