A live conference on San Francisco's housing crisis has generated so many ideas for solutions from the community that a key organizer, the San Francisco Public Press, has decided to make this topic a focus coverage area for the foreseeable future.
The San Francisco Public Press is a small non-profit public interest news agency largely serving San Francisco, Calif. News is published online weekly as well as in a quarterly print piece that includes items curated from about 30 partner non-profit news organizations in the city and Bay region.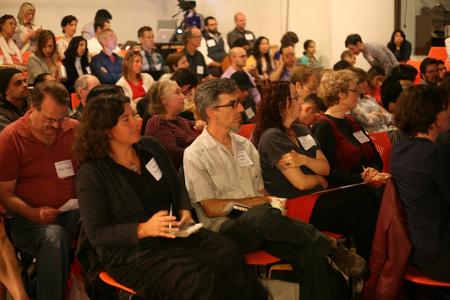 The press focuses each quarter on one large reporting project. Teams of reporters work collaboratively on a chosen topic. This summer, the city's housing crisis was the selected topic. Much of the crisis has to do with the "astronomical" cost of living to rent or buy, according to San Francisco Public Press publisher, Lila LaHood.
In addition to reporting on the issue, the news agency, under LaHood's direction, chose to host a live conference for this particular subject.
"As a non-profit news organization, we've always focused a lot of time and energy on community engagement," LaHood says.
"We decided that having a live event would also help foster this kind of engagement."
The press envisioned community members interacting both with the news agency and each other to identify and consider ways to implement solutions.
The focus on identifying solutions was another distinguishing feature of this particular project.
Like most news agencies, the San Francisco Public Press has traditionally taken a retrospective, evaluation-based approach to its reporting — how well such and such public agency met new legislation requirements or attained its stated goals, for instance.
But in this case, the decision was to focus on surfacing potential solutions to the housing crisis.
The reporting team undertook some of this work before the conference through interviews with individual community members.
At the June 13 event, the panel of about a dozen invited speakers was also asked to describe one potential solution.
Conference attendees then collected into small groups to discuss the potential solutions further.
LaHood says the news agency was thrilled with the level of engagement. About 150 people joined the event, which, for a small non-profit news agency with a small marketing budget, is noteworthy.
The event also generated a large number of solution ideas, many of which the San Francisco Public Press team has been following up on through additional reporting projects.
But there were too many to cover in one print issue. For that reason, and also because the topic is of such importance for the area, the press is continuing coverage of this topic beyond the one publication and quarter.
The press is also organizing an Aug. 21 follow-up event on the topic to build on the June event.
"I would advise other small news organizations, whether non-profit or for-profit, to consider this approach," LaHood says, referring to the live conference.
"It helped us in terms of connecting with the community and with our readers," she notes.
With its small size and limited marketing budget, getting the word out about the San Francisco Public Press and its reporting is beneficial, especially given the reporting is all public interest news, LaHood says.
"We're trying to serve the community and it would be a shame if the community did not know about this coverage and was not able to tell us more about what they're looking for."
To learn more, visit http://sfpublicpress.org/housingsolutions.
Writer: Michelle Strutzenberger
This story is written by Axiom News.


This work is licensed under a Creative Commons Attribution-NonCommercial-NoDerivs 3.0 Unported License.