By Jennifer Neutel
Brenda Payton says she feels encouraged and excited by what she's seeing in her first weeks as coordinator of Oakland Voices, a nine-month community journalism program engaging 12 East Oakland citizens.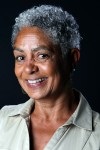 The Voices correspondents learn writing, photography and video skills and tell the stories of their communities. Their work is published on the Oakland Voices website and some appear in the Oakland Tribune.
Currently in its third cohort, Payton comes to the coordinator role with experience as a journalist since 1975. She wrote a column for the Calif.-based Oakland Tribune for 28 years, and since 2008 has been freelancing. Oakland Voices resonates with Payton, who once proposed a similar idea for a women in media grant.
"(Oakland Voices) fit my assessment, after a career in journalism, of what's needed and what's missing," she says.
"For a long time I have believed newspapers needed more of a community voice," Payton says. "Efforts to really go into communities and let people tell the stories that they see and are living are really important."
There's a "huge disconnect" in the sense of reality reflected in the media and what's happening in people's lives, she says. For example, she's noticed the media tends not to cover religious-related stories yet churches are an important part of the African-American community.
"Unfortunately papers have lost a lot of ground in terms of the diversity of the staff," she says, noting a push for more diversity began at the same time as her career but with shrinking in the industry some progress was lost.
Payton notes it is heartening to see the correspondents, who all have other jobs and lives, express interest, ideas and enthusiasm in the program. The class itself is diverse, with participants ranging in age and race. They have already bonded as a group and are helping one another with story and source suggestions, she notes.
For their first assignment, correspondents went out into their neighborhoods and observed what was going on. Payton says the types of stories already coming in has been "eye-opening," as many are showing aspects of the communities that haven't been shared in the mainstream media.
"They had scenes of all kinds of diverse people using the park, or living next door to each other, people getting along and finding ways to share their space," Payton says.
On the journalistic side, correspondents quickly ran into challenges such as sources not wanting to provide their names, how to take notes when people are talking fast, and what to do when a story falls apart.
Correspondents shared the residents they interviewed were excited someone was interested to share their stories, Payton says.
"The more people from different communities learn about each other then you have the possibility of greater cohesion in a community or a city," she adds.
Looking ahead, Payton hopes when the class is complete correspondents continue to use their voice, keep exploring untold stories and gain confidence in their storytelling skills. Her "ultimate idea" is the graduates form their own ongoing publication.
Oakland Voices is run in partnership with The Oakland Tribune, Bay Area News Group and Robert C. Maynard Institute for Journalism Education with a grant from The California Endowment. Visit oaklandvoices.us to learn more.
Read Related Stories:
Community journalism program helps fulfill childhood wish
Reporter sees value in engaging citizen journalists
Oakland resident gains confidence, skills through journalism training
Oakland Voices empowers citizen journalism
Oakland Voices grad applies learning to her health sector job
— Oakland Voices is one of three pilot sites participating in the ASNE/Journalism That Matters partnership exploring how and why news organizations are engaging with their communities. This story is written by Axiom News. 


This work is licensed under a Creative Commons Attribution-NonCommercial-NoDerivs 3.0 Unported License.