Posted by Jennifer Neutel
Commission and media company collaborating on community project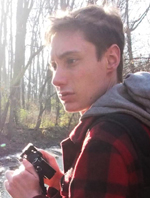 A video contest hosted by the Cedar Rapids Civil Rights Commission to promote fair housing now has a team from The Gazette Company involved. Members of the media company's We Create Here effort are saying they're honored to have been invited to help co-ordinate the project. For Ben Kaplan, the fair housing project is of particular interest.
Called A Face for Fairness: Fair Housing for All, the project is unique in that the commission has put a call out to the community inviting people to submit videos and posters they've created.
The commission was awarded a $10K communications grant for fair housing. It chose to engage the community to create and share artifacts that capture why fair housing should be a high priority in a community, rather than hiring an agency to do so.
The contest will be launched in August, with winning entries to be announced in October. The winning video will receive an award of $2,000.
"There's a lot of talent in our community. This video contest is an outlet for that talent," says Kaplan, who has used his expertise as a videographer and editor for KCRG to help develop guidelines for submissions.
Kaplan and Quinn Pettifer, manager of community networks and engagement for We Create Here, have been taking the lead on co-ordinating with the commission on every part of the project.
Pettifer says it's noteworthy that the commission approached the We Create Here effort first to discussion collaboration. "It's an honor and it's really cool to see the community responding to us and wanting to work with us in that light," she says.
As someone with a passion for New Urbanism and urban planning issues, including urban revitalization, Kaplan finds this project of particular interest.
"Diverse communities are more vibrant, interesting and economically sound than places that are more homogenous," he says.
Given that the nation in general is becoming more diverse, there needs to be more intent around building communities where "everyone has a place at the table," where "everyone has access to education, employment and housing."
There are laws in place to help ensure this, but not everyone is aware of their own rights or knows that there is help when they face discrimination, Kaplan says.
"The Fair Housing project is a way to make sure that our community is aware that this kind of
discrimination is against the law and against our shared values," he says.
The video contest has two parts, a public-service announcement (PSA) and a long-form educational video. The PSA should address who to contact and how if one has been discriminated against. The long-form video will be an educational tool that will help people recognize discrimination.
We Create Here is an initiative of The Gazette Company designed to empower the citizens of Iowa's Creative Corridor to connect and engage with the issues that affect them.
Click here to read more.
Related Story: Multimedia journalist Ben Kaplan's passion for urban planning evokes different news focus
By Michelle Strutzenberger
This story was originally posted on The Gazette Company's Our Voice. The Gazette Company's We Create Here is one of three pilot sites participating in the ASNE/Journalism That Matters partnership exploring how and why news organizations are engaging with their communities. This story is written by Axiom News.